I am so excited to be co-hosting this week's Meet & Greet Blog Hop!
I'm so glad that Kim & Laurie host this every week!
If you are new to the blogging world, like I am, this is a great link-up to find new blogging friends.
And I LOVE new blog friends!
Let's Be Friends!
Welcome to the Meet & Greet Blog Hop!
We would love for you to join in, meet some fellow bloggers, and create new friends in the blogging world!
Interested in being a Co-Host?
Send an email to 2justByou(at)gmail(dot)com with "Co-Host" in the subject line for consideration and include your blog link!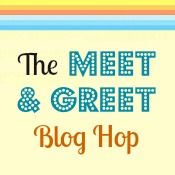 Now link up and have fun!
*Please be sure to follow the Hosts, and Co-Hosts (Who change weekly!)
If you would like to sign up for email reminders for the Meet & Greet Blog Hop, please sign up below. (Your email address and info will not be used for any other purpose.)